Sherry named her piano studio "Piano in Action" not just for her active teaching methods, but for how she enables her students to actively serve their communities. Each year since 2007, this service has included a piano recital benefitting Feeding America West Michigan.
"I wanted my students to feel that the work that they're doing is not just for themselves, but could actually affect and help other people, regardless of what age they were," Sherry explained.
She first became aware of Feeding America West Michigan while volunteering with her church. When she decided to merge her love of service with her students' spring piano recital, she chose to support the food bank, knowing it makes a large impact with a small amount of money. It's true – just $1 provides four meals to those facing hunger throughout West Michigan and the Upper Peninsula.
This year, the recital brought in $1,660, equaling more than 6,640 meals for those in need. Thanks to these recitals, more than 40,000 meals have been served since the fundraiser began.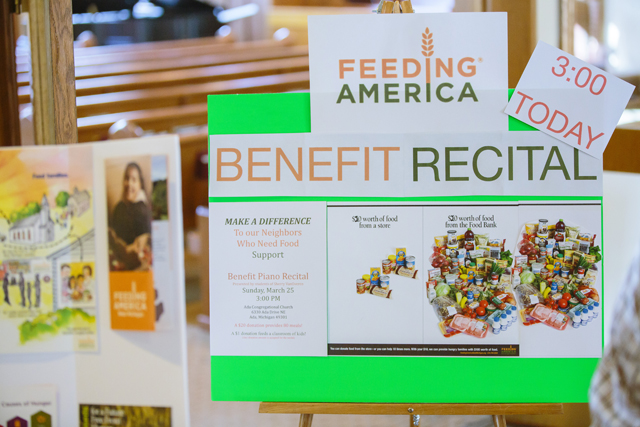 Sherry wanted to give her students a tangible way to think of others, and hoped the fundraiser would help her youngest students learn that they can make a difference. Her strategy has worked well: No matter their age, her students look forward to the recital. Some children even do extra chores so they can donate, and many invite extended family to watch them perform and to contribute to the fundraiser.
Piano in Action hosts another benefit concert in the summer for Kids Food Basket, a partner agency of Feeding America West Michigan. In addition to the recitals, Piano in Action students bring Christmas music and homemade cards to a retirement community in December.
Feeding America West Michigan relies on the generous creativity of community members like Sherry to reach its goal of ending hunger wherever it exists in its 40-county service area. Whether these supporters make large donations or simply donate $1, their kindness goes a long way – something Sherry strives to share with her students:
"Even if they don't have a big bank account, through their efforts, they can help families," she said.
Story written by Juliana Ludema, Communication Assistant