In this story, you'll read about how COVID-19 has impacted the food bank, our partner agencies and the neighbors we serve. By the end of the story, you'll see how our community has come together to support neighbors facing hunger during this challenging time. This story intros our blog series, COVID-19 Hunger Heroes, through which we will highlight some of these supporters — and the work they have made possible — more closely.
---
Now more than ever, access to nutritious food is essential to keeping families in need healthy. Fortunately, our agency partners, volunteers, donors, staff members and so many others are stepping up to fill plates despite challenges. Even the National Guard is lending a hand!
Need increases throughout service area
Business and school closures have impacted the food bank and the programs we support in a way we never could have prepared for. Before COVID-19, more than 284,000 individuals in Feeding America West Michigan's 40-county service area faced hunger. In March, we saw a 235 percent increase in searches for food assistance on our website, and a 50 percent increase in demand for food from our partner agencies, even though some have closed for the time being.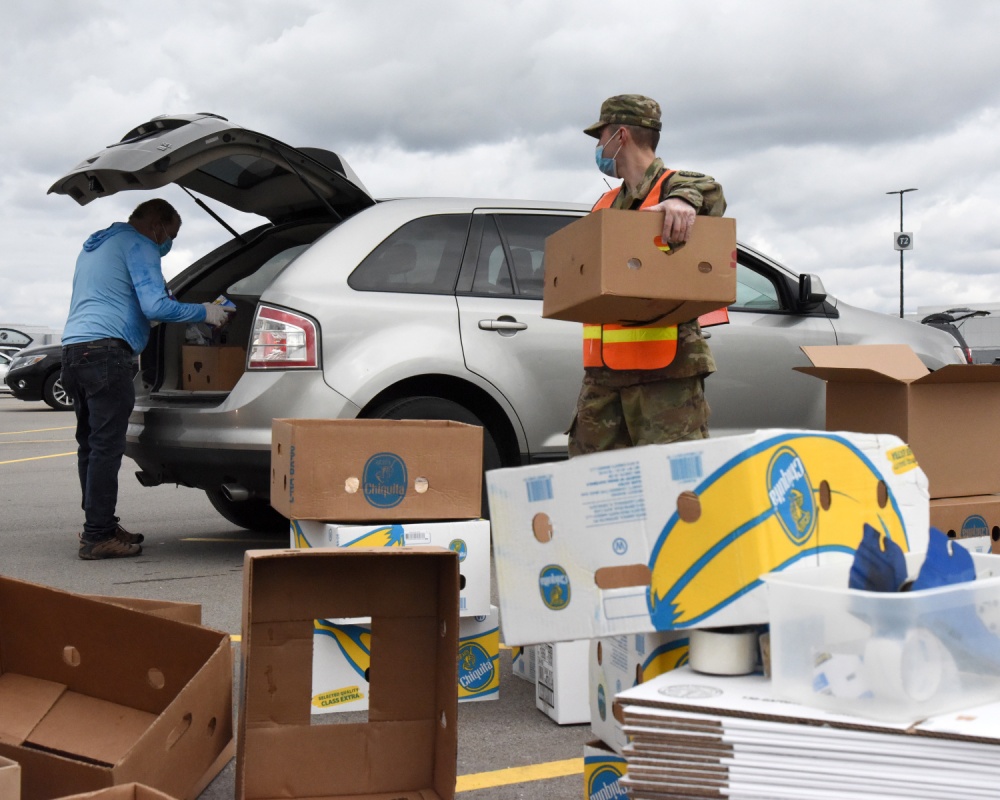 To meet the increased need amidst a decline in food donations, we have been spending $100,000 per week on food.
Organizations that host Mobile Food Pantries across our service area have seen unbelievable spikes in demand over the past month.
Like many, Kristen Corbiere first knew the COVID-19 virus was a force to be reckoned with when schools closed on March 13. As the Mobile Pantry coordinator for JKL Bahweting Anishnabe School (JKL) in Sault Ste. Marie, Kristen knew her program was about to change.
In Chippewa County, where Kristen serves, free and reduced lunch rates are already high. Before this global pandemic began causing layoffs and closed schools, 1 in 6 neighbors faced hunger in her community, including 1,400 children. This is one of the highest rates among the 40 counties we serve.
"Without school, I knew we would have students and families struggling to have access to food," Kristen said.
Schools have now been closed for more than a month, and they won't reopen this year. Families that rely on their kids eating breakfast and lunch at school are now paying more for groceries – an even bigger challenge for families facing unemployment.
The food bank sent thousands of pounds of extra food to JKL's first Mobile Pantry after the school closure announcement. Normally, the school provides 10 or 15 thousand pounds of food to around 250 families. That day, they had 27,000 pounds of food – enough to serve 466 families – but Kristen said they had to turn 200 away that day.
Mobile Pantry sites across our service area have experienced similar outcomes. The line to attend a Mobile Pantry in Menominee County went three miles down the highway, and there wasn't enough food to serve them all.
For JKL's next Mobile Pantry, the food bank sent even more food. This time, JKL distributed 36,000 pounds – equaling an estimated 30,000 meals – to 685 families.
Traditional pantries have also seen the need increase. New Hope Pantry in Shelby, located in rural Oceana County, served 177 people through their traditional food pantry in April – nearly twice their usual amount.
Sharita, who runs the pantry, has noticed that some of the neighbors who usually donate are now coming to the pantry for help themselves.
Modifications and creative solutions at the food bank
For safety, Mobile Pantries are providing drive-thru service. This is a normal set-up for some Mobile Pantry hosts, but for others, it's a change that's required them to think on their feet. As best they can, organizations have reduced their volunteer force, and are encouraging remaining volunteers to keep their distance and wear gloves and masks.
Mobile Pantry trucks are typically loaded with 5,000 – 20,000 pounds of food. To meet the increased need, we've been sending additional food on the 100+ Mobile Pantries we provide each month – doubling the food distributed through the program. To further respond to the need, we've also added additional Mobile Pantries to the schedule to serve unemployed service industry workers.
Other types of hunger-relief organizations we support, such as traditional pantries, have shifted to more of a "grab and go" style distribution (e.g. pre-packaging food boxes that neighbors can pick up at the pantry's front door).
Neighbors step in to meet the need
When Kristen shared a Facebook post about the number of families they had to turn away from that first Mobile Pantry, she was overwhelmed by how many individuals, churches and businesses reached out to donate financially.
The food bank, too, has seen an increase in generosity. Not only are more neighbors giving financially, we've received donations of masks and boxes right when we've needed them most.
"It's heartening," said Diane, the food bank's donations manager.
"It is my belief that this pandemic has helped our community realize the distributions are not just for individuals who receive food stamps," Kristen said.
Hunger can affect anyone, even the neighbors you least expect – especially now.
"Even when this pandemic is over, when people can return to work, the food insecurity rates will not go away. That is why we continue," Kristen said.
Businesses and grantors join the fight against hunger
Along with the support of individual donors, around a dozen businesses have supported us financially during this time. Some of the biggest contributors are UPS, SpartanNash, and Fifth-Third and Northpointe Banks. In addition, because of business closures, the food bank has received donations from some restaurants that aren't typical donors, including Founders and McDonalds.
The food bank has also received grants from the Feeding America National Organization, Heart of West Michigan United Way, United Way of Montcalm-Ionia Counties, AEP and the Fremont Area Community Foundation. This support has empowered us to provide extra food to our network on the ground serving neighbors.
Partner agencies and food bank staff step up to the challenge
So many of the food bank's partner agencies are stepping up and doing more than ever before, despite modifications. They're sharing resources with each other, hosting more Mobile Pantries, delivering food to home-bound neighbors and volunteering at other sites.
"We asked them to do more and they responded by doing more than we could have ever asked," said Shay, the food bank's programs coordinator.
Food bankers are also helping out more than ever. Many are volunteering at Mobile Pantries and doing what's needed – even if it's outside their department – to get all the work done.
"Our drivers have been an incredible force during this time and have been great at working with the packed Mobile Pantry schedule," said Abby, the food bank's programs specialist.
Getting by with a little help from the National Guard
With large volunteer groups suspended and many older volunteers choosing to stay home, the food bank's work force has been extremely limited. To fill this gap, members of Michigan's National Guard have stepped in at the warehouse and at Mobile Pantries.
Their help came right when needed, and they're completing tasks in record time!
Things are looking a little different around the food bank, but one thing remains the same: our team and network's passion for ending hunger for all who face it in West Michigan and the Upper Peninsula.
There is still much to be done in the coming weeks and in the ones that follow when the pandemic fades to the background and we all attempt to find a new normal. Sadly, many will continue to face hunger. But no matter what, Feeding America West Michigan will be there to help.
If you're in need of food, visit FeedWM.org/FindFood or call 2-1-1.