For many children, summer vacation is filled with bike rides, beach visits and a whole lot of "nothing." Helping out in grandma's garden might be included on this list of to-dos, but for 10-year-old Olivia, her grandma's flower garden is more than just a fun summer activity; it's a way to raise money for those in need.

As one of Feeding America West Michigan's youngest donors, Olivia proves that anyone can make a difference, no matter their age. She donated $100 to help feed families facing hunger in her community.
Each year, with the help of her grandma, Olivia sets up a stand to sell the flowers she nurtured all summer. Olivia's garden grows a variety of flowers, including her favorite – dahlias – which she makes into beautiful bouquets to sell to her customers. After combining all of her proceeds from the summer of 2018, she chose to donate a portion of the profits to Feeding America West Michigan.
When asked why she chose to use some of her earnings to help feed families in need, Olivia said, "If somebody is in need, it's kind to help them."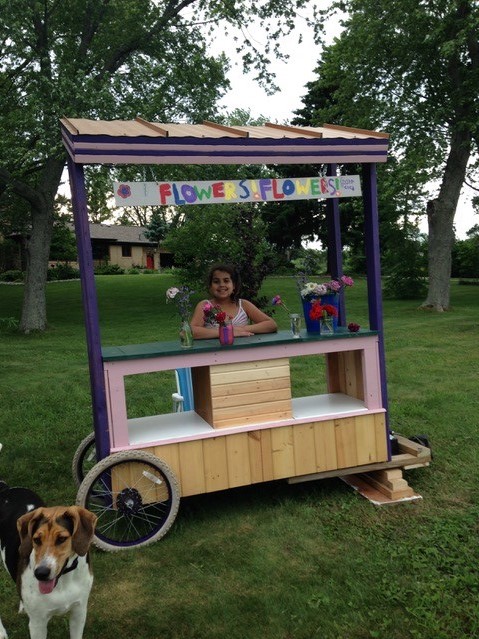 She first learned that there are people just like her who face hunger when her school participated in a food and water drive during the Flint water crisis. Later, Olivia's school helped decorate bags of food for Kids' Food Basket, one of Feeding America West Michigan's partner agencies.
Olivia recalled these experiences while brainstorming ways to donate her flower money from the summer. She brought up these ideas to her grandma, who suggested donating to Feeding America West Michigan. At the food bank, Olivia's $100 donation stretched far: Since $1 provides four meals for those in need, Olivia helped the food bank provide 400 meals to families in its service area.
"I learned I can be really useful and helpful even if I'm 10-years-old," Olivia said.
Out of the funds she made with her flower stand, Olivia put some toward next year's garden, some toward Feeding America West Michigan and also bought Christmas presents for a six-year-old girl in foster care, through an Angel Tree sponsored by her mother's workplace.
"I kind of felt it was a little selfish to keep it all to myself," Olivia said. "I wanted to give back to people in need and felt like that was something really nice to do."
Olivia exemplifies how a little generosity can go a long way. Each of Feeding America West Michigan's generous supporters reaffirms its mission and fills an important piece in the puzzle of ending hunger in its service area.
Story written by Juliana Ludema, Communication Assistant