The Mitten Brewing Company is one of many Grand Rapids breweries that arose during the boom of craft beer. Giving back to their community is a part of their core values and, through their foundation, they have joined forces with Feeding America West Michigan in the ranks against youth hunger.
They became aware that their neighbors were struggling with food insecurity and knew something needed to be done to combat it. Because Mitten Brewing has been committed to giving back to their community since their origination in 2012, they decided to step up to the plate, and fill some empty ones.
The Mitten is on the west side of Grand Rapids, which is home to many food insecure families. According to the census tract, the median household income in this area is substantially lower than other areas around the city of Grand Rapids. Since The Mitten is situated in the heart of the west side, the familiar faces have become like family. "We pass by our neighbors every single day; their kids drive their tricycles into the doors during the summer. You can't remove the neighbors and the human aspect from the business," said the President of the Mitten Foundation, Dana Dones. "It's your job to help your neighbor, always," she continued.
The Mitten Foundation learned about the prominence of food insecurity in their neighborhood while providing uniforms at Harrison Park Elementary, a local low-income school, for students whose parents couldn't afford them. Board members of the foundation realized that if students didn't have access to something as simple as school uniforms, they may also have limited access to even more basic necessities. After their suspicions were verified, the Mitten Foundation became one of Feeding America West Michigan's partner agencies. Board members (made up of local residents) chose to focus their efforts on surrounding schools with an evident need.
When developing a fundraising event, they decided to host a sponsored golf outing. Through their inaugural golf outing in September 2017, the foundation hoped to raise enough funds to provide mobile pantries for three nearby elementary schools: Stocking, Sibley, and Harrison Park. Many local businesses jumped on board as sponsors. The event raised $10,000 which was enough to sponsor monthly mobile pantries at all three schools for the entire year with money left over. With the excess, they were able to provide one year of mobile pantries at Union, a local high school.
Over 85% of the students at all four schools qualify for free or reduced lunch. Without the mobile pantries, many of these students would struggle to silence their growling stomachs before and after school each day and during the weekend. Because of the Mitten Foundation, they can satisfy their stomachs and focus on growing and learning.
The community surrounding each school also benefits from the food they provide. Since these mobile pantries are open to the public, the entire west side of Grand Rapids is being fed because of the Mitten Foundation's contributions and steadfast dedication to their community.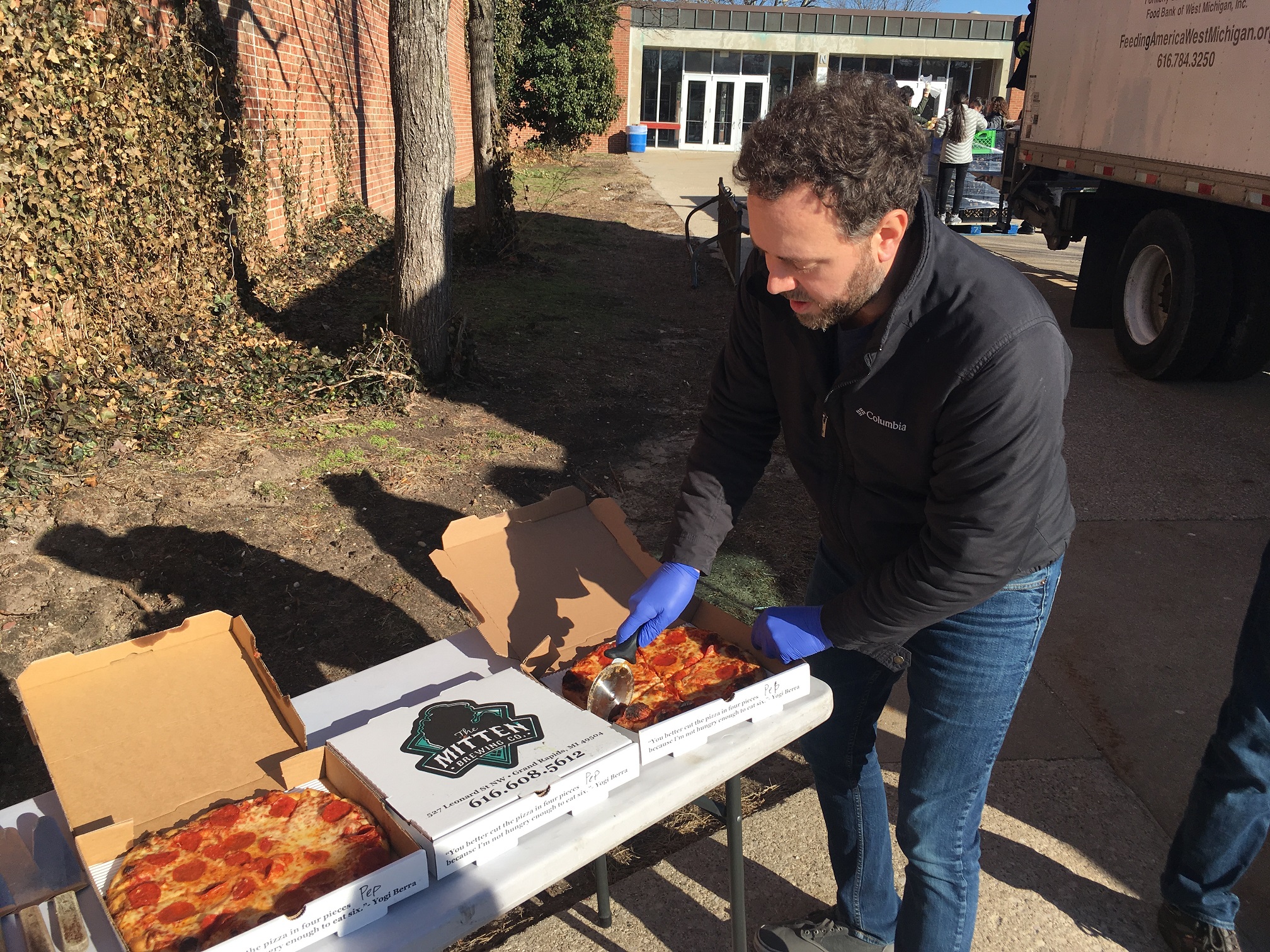 In addition, the Mitten Foundation provides pizza, fresh from the brewery's kitchen, while they wait in line. To fund this initiative, servers at The Mitten sold paper pizza slices that are hung in the brewery showcasing the generosity of their patrons – every $1 paper pizza slice that a customer purchases provides one slice of pizza at a mobile pantry distribution. They have sold enough to provide pizza for each mobile pantry they have sponsored throughout the year.
Dana spoke about how local businesses such as theirs have a responsibility to care for those in their community who are struggling. "How can you step over somebody instead of grabbing their hand and helping them up?" she said. The Mitten Foundation wants to continue supporting those around them through their partnership with Feeding America West Michigan in the coming years. Being a small local business hasn't stopped them from making a difference. The brewery can only seat a hundred people, but they are feeding so many more.
Story written by Molly Kooi, Communications Specialist