In this day and age, heightened cost of living isn't always accompanied by higher paychecks. Many families struggle to make it through each month without assistance and keeping food on the table can be a challenge. Even families with two incomes can still fall short in eliminating their food insecurity; combatting this problem is what Feeding America West Michigan strives to do.
For Sara Carrasco, the food bank's administrative assistant, being a part of this mission is extremely meaningful. Knowing that she is part of the process that brings food to more than 490,000 community members every year hits home for her. Before joining the Feeding America West Michigan team, her family was struggling to make ends meet.
Sara and her husband Adam, who have been married for six years, have two young boys at home. Their eldest son Alvynn is seven and their youngest, Abraham, is four. "We're a very close-knit family that loves doing things together," Sara said. They love to spend time outside when the weather permits. When it doesn't, they play board games and spend time with their red rose pit bull, OP (short for Optimus Prime). "She absolutely completes our family," Sara said. They also love to cook or work on crafts together. The young family makes it a priority to spend as much time together as possible.
The Wyoming family of four resembles most trying to fulfill their America dream. After Sara and Adam's youngest son was born, the couple struggled to keep their finances afloat. Adam has worked as a maintenance technician at Notions Marketing for the last 10 years, and still maintains employment there today. Sara had no trouble finding a job but couldn't manage to find one that paid enough to support their growing family. She was hardly making enough to send her kids to daycare while she worked. "During the summer of 2014 our financial situation was extremely grim. Daycare was taking 90% of my paycheck. I was making 17 cents an hour after paying daycare for both kids," Sara said. With hardly any financial return, it simply made no sense to continue working. Oftentimes, like in Sara's case, daycare expenses can equal or outweigh your income. Sara spoke about their struggle plainly, saying "we were in need. Our bills weren't being met and groceries were hard to buy." Around the same time, their oldest son Alvynn was beginning kindergarten at Parkview Elementary School. Sara discovered that the school hosted a Feeding America West Michigan mobile pantry once a month and decided to check it out.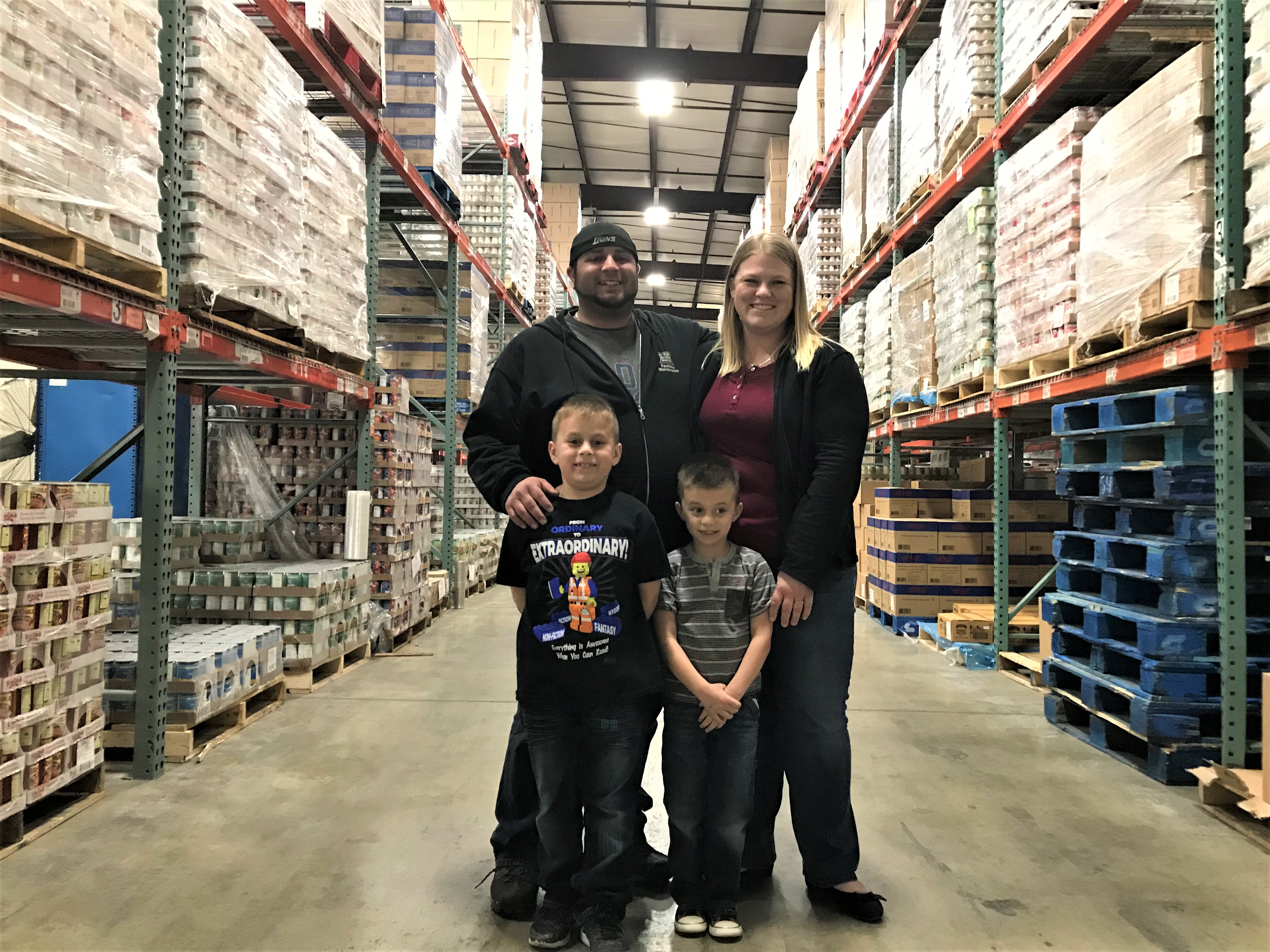 Both of Sara's parents have worked for Feeding America West Michigan for many years. She has always been aware of the resources that the organization provides, but she never imagined relying on them herself. Sara said, "From the summer of 2014 until the summer of 2015, the Parkview mobile food truck and UCOM (a food pantry at United Church Outreach Ministry) were main sources of food in our household." Sara's family relied on these resources to make it through each month, and the resources gave her peace of mind. Like many families struggling with food insecurity, a little help goes a long way. Sara said that, at the time, "if I didn't go get this food from the food truck, we would have to go without."
After the summer of 2015, Sara was able to pick up a part time job at Jimmy Johns, which made Feeding America West Michigan's resources less crucial in the family's daily lives, but they continued to use the mobile pantries as a resource when their finances were stretched especially thin. "I would attend the Parkview mobile food truck, only when the need was there, and the money was gone," she said. Sara and Adam continued this way, using Feeding America West Michigan's resources only occasionally, until the summer of 2017. At this time, when their youngest son entered preschool and the couple was no longer paying for daycare services, Sara was able to return to work full time. Sara joined the Feeding America West Michigan team in March of 2017 and could not have been more thrilled. Today, Sara, Adam, and their boys are on their feet financially.
When asked about what her work at Feeding America West Michigan means to her, Sara responded, "The work I do, I feel so good about it. It feels really good, especially because I've been a client myself. I know what it's like to be in need." Reflecting on her past and looking toward her future, Sara summed up her story succinctly: "I am so grateful to be where I'm at right now."
Story written by Molly Kooi, Communications Intern