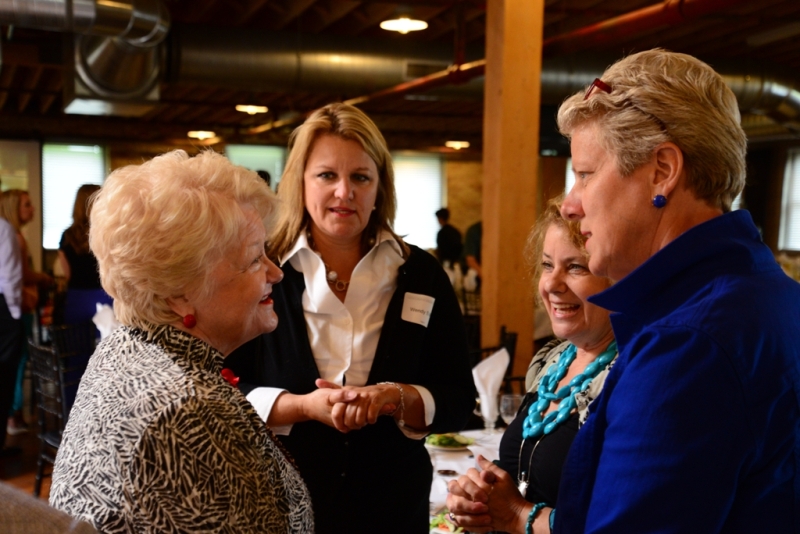 June 12, 2014 — Comstock Park, Michigan — At its Many Hands Against Hunger fundraising luncheon Tuesday, Feeding America West Michigan Food Bank raised $48,000, enough to provide 192,000 meals to food-insecure families in West Michigan and the Upper Peninsula.
Judge Sara Smolenski gave a keynote speech that wove anecdotes from her years on the 63rd District Court together with a plea to care for those struggling in our midst.
To cap the program, Smolenski invited nine-year-old Owen Ronning to join her on stage. Ronning talked about how receiving food at a Mobile Food Pantry motivated him to become a Food Bank advocate. Last year, Ronning raised money to sponsor his own Mobile Pantry in Jamestown Township, feeding 117 families. His third grade class is now selling popsicles to bring a second distribution to the community.
If a nine-year-old can make a difference in the fight against hunger, Smolenski said, imagine what all of us can do.
The program also featured a performance by local artists Rebekah Rhys and Mark Sala, and an award presentation that honored Buist Community Assistance Center, Golden K Kiwanis, Country Fresh and the Northwest Food Coalition for their partnership with Feeding America West Michigan. Sysco and Kiolbassa Provision Company donated food for the event.
Many Hands Against Hunger was underwritten by Meijer with support from Metro Health Hospital and Star Truck Rentals.